Published August 19, 2016
Natural Remedies Western U.S. Tour!!!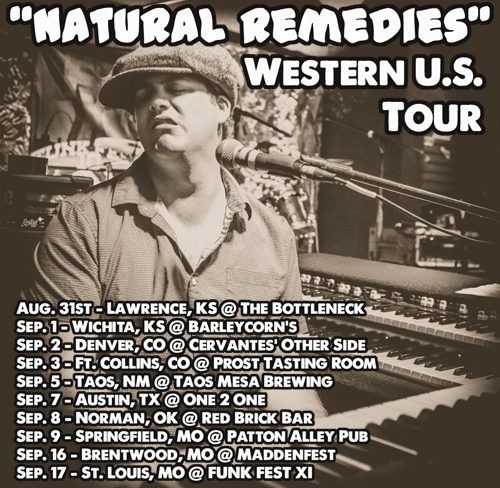 FOR IMMEDIATE RELEASE:
YOUNG-BLOODED SOUL SENSATION AL HOLLIDAY & THE EAST SIDE RHYTHM BAND ANNOUNCES FIRST EVER WESTERN U.S. TOUR!
ST. LOUIS – ( AUGUST 18, 2016 ) – Mound City Music is proud to present Al Holliday & The East Side Rhythm Band "Natural Remedies Western U.S. Tour"!!!
Recently, our Mississippi River city has seen the rise of an undeniable young Soul/R&B collective not unlike the beginnings of the famous Daptone Records in NYC. This group, The East Side Rhythm Band is lead by St. Louis' reigning "Best Male Vocalist" and "Best R&B Artist" (Riverfront Times), Al Holliday.
Fresh off performances with Galactic, Dumpstaphunk, Orgone, and The New Mastersounds, the band is touring the western U.S. in support of their brand new 12″ LP "Natural Remedies".
"Natural Remedies", was cut live to analog tape with as much blood, sweat and tears as fried chicken and potato salad. "Holliday's music undeniably shows traces of the South's deep heritage," says Christian Schaeffer from the Riverfront Times, "and his album can be seen as our river city's ability to absorb influences and mold them to our own devices."The performances on this album serve as a document of this burgeoning champion Soul and R&B organization, while the content is the revelation of an artist the likes of Van Morrison, Joe Cocker, and Leon Russell.
The "Natural Remedies Western U.S. Tour" is scheduled for:
Aug. 31st – Lawrence, KS @ The Bottleneck
Sep. 1 – Wichita, KS @ Barleycorn's
Sep. 2 – Denver, CO @ Cervantes' Other Side
Sep. 3 – Ft. Collins, CO @ Prost Tasting Room
Sep. 5 – Taos, NM @ Taos Mesa Brewing
Sep. 7 – Austin, TX @ One 2 One
Sep. 8 – Norman, OK @ Red Brick Bar
Sep. 9 – Springfield, MO @ Patton Alley Pub
Sep. 16 – Brentwood, MO @ Maddenfest
Sep. 17 – St. Louis, MO @ FUNK FEST XI
For more info or to set up an interview, contact Al Holliday & The East Side Rhythm Band directly at alholliday7@gmail.com or visit www.alhollidaymusic.com
Published May 5, 2016
"Bring Your Troubles to the City" Music Video!!!
Hey y'all! Check out our brand new video for "Bring Your Troubles to the City"!!!
This video was Directed by STL's own Brandon Sloan – special thanks to Josiah Joyce and Nathan Dell ( a.k.a. Leo DeCaprio and Edward Norton )
Stay tuned for information on ordering "Natural Remedies" on 12″ vinyl online!!!